Commercial Gutter Cleaning
UK Gutter Maintenance Ltd offer a professional commercial gutter cleaning service and routine maintenance, suitable for both industrial and retail spaces. Gutter cleaning is the fast and efficient removal of debris that collects over time. The build up of organic and man-made waste, including leaves, plant debris, bird nests and fragments of brick or roof tiles, can cause blockages and lead to hidden dangers for those working in and around the property.
We aim to offer the most economic solutions for your gutter cleaning and maintenance requirements
We provide services across commercial, retail and industrial properties, covering schools, hospitals and universities
All maintenance and repair works are carried out at height, by experienced two man teams
We use 16.5m liveried boom vans as a standard piece of equipment for safe access
All accounts are allocated to a dedicated project manager and overseen by our health and safety manager
We pride ourselves on our communication processes with our customers, to offer a seamless service
NATIONAL GUTTER CLEANING SERVICE
Our national gutter cleaning services cover all commercial, industrial and retail properties including school gutter cleaning services. During regular gutter cleaning, we are also able to assess the state of your guttering and downspouts and report any impending issues or recommended gutter maintenance work. We strive to identify any minor remedial works required to revive the condition of commercial gutters, which can include leaking joints, perforations in the gutter, blocked outlets, missing wire brackets and misaligned downspouts and pipes.
OUR CUSTOMER COMMITMENT
At UK Gutters Maintenance Ltd, we strive to offer our customers the best value for money when it comes to selecting a national gutter cleaning service. We are always happy to provide a quotation for repairs to be rectified in line with your budget requirements, or alternatively we are happy to provide independently priced jobs, simply contact us for a quote.
IMPORTANCE OF REGULAR GUTTER CLEANING
UK Gutter Maintenance Ltd recommend that gutter cleaning activities are carried out regularly to avoid blockages and debris causing damage. Leaving gutters unattended for long periods of time can develop into a buildup of organic matter and cause overflowing pipes, blockages and perforations, resulting in emergency reactive works.
Blockages in gutters and downspouts not only cause damage to the external guttering and surrounding roofing areas, but can also cause internal damages, if left untreated. This can cause a wider effect on a business including damage to stock, contamination of raw materials, breakdown of equipment and machinery and can potentially lead to temporary closure. Implementing regular commercial gutter cleaning will reduce the risk of damage to inventory and the associated costs.
Regular gutter cleaning and maintenance now comes by recommendation of insurance providers, due the heavy rainstorms that occur frequently within the UK, routine gutter servicing is considered essential for any commercial and industrial building. Companies that regularly invest in gutter cleaning, can benefit from reduced insurance premiums and are less likely to have to claim on their insurance cover.
HOW IS GUTTER CLEANING CARRIED OUT?
Our commercial gutter cleaning service is carried out by experienced two-man teams. All of our staff hold the appropriate skill cards such as IPAF or PASMA including a first aid training certificate. Regular 'toolbox talks' with our teams to ensure that health and safety is at the forefront of our offering. To perform your gutter cleaning service, we access your gutters via a 16.5m livery boom van / MEWP and work at height conforming to all HSE legislation.
GUTTER CLEANING HEALTH & SAFETY
At UK Gutter Maintenance Ltd, we pride ourselves on our health and safety operations, with our specialists fully trained to 'work at height'. This ensures that not only are we health and safety compliant but that our gutter cleaning services are carried out correctly and efficiently. We consider health and safety to be of the utmost priority within our business. Our in-house Health and Safety Manager regularly conducts unannounced audits in order for the business and our employees to maintain our high standards and ensure safe working practises are adhered to at all times. We hold a register of PPE equipment which is checked before use and tagged as necessary.
COMMERCIAL CLADDING & SOLAR PANEL CLEANING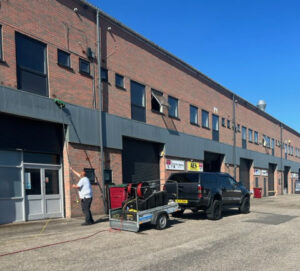 At UK Gutter Maintenance, we understand the importance of maintaining a pristine building façade. Your commercial property's fascia is constantly exposed to dirt and grime, which can leave a negative impression on potential clients. Fortunately, our versatile cleaning technology allows us to effectively clean even the most challenging-to-reach heights, when used in conjunction with our van mounted MEWP's.
When you choose our combined gutter cleaning and solar, cladding & signage cleaning services, you can expect nothing short of excellence. Our fully qualified and highly experienced teams of professionals will handle all aspects of external building fabric cleaning, ensuring that every safety regulation and precaution is met. We take pride in delivering a high standard of service that will leave your commercial building looking attractive and inviting to clients.
Trust us to provide the expertise and care your building deserves. Get in touch with our team today for top-of-the-line commercial cladding, solar panel and gutter cleaning services.
To arrange a site visit call our National help desk on 01748 835 454 or fill out our form.